Roofer Manchester - Chimneys, Guttering & general building services
If you're looking for a roofer in Manchester then look no further than James W Roofing. A now third generation roofing company, we really know our stuff and are able to get any roofing work done to top industry standards. Due to us being well established, we have a large team of qualified and talented roofers. We regularly train our staff in order to maintain our standards of work and also ensure that safety procedures are properly adhered to.
We know it's not ideal getting and roofing work done to your property, however our team are committed to carrying out top quality roofing work whilst causing minimum disruption to your property. We take great pride in keeping our working environment clean and tidy.
We are based in Oldham but serve all of Greater Manchester for roofing services including:
Roofing
Roof Repairs
Chimneys
Guttering
Roofing Contractor Manchester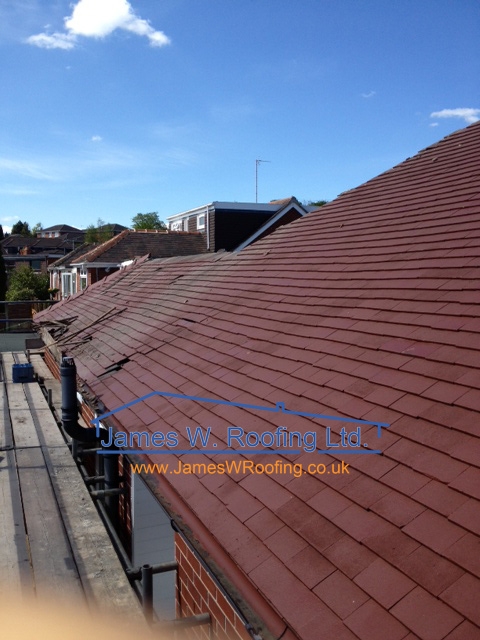 James W Roofing are your complete roofing contractor solution in Manchester. We regularly work as roofing contractors on multiple projects for both industrial and domestic customers. We like to build relationships with any of our customers in order to provide you with a quality on-going roofing service.
Our team are always available to assess your roofing requirements and meet any deadlines or specific criteria you may have for the work being carried out.
Insurance companies
James W Roofing are always interested in partnering up with insurance companies to fix roofs which are damaged and need to be repaired under any insurance policies.
If you're an insurance provider then please get in touch and we will be able to discuss and provide a quote tailored to your requirements
Roof Repairs Manchester
James W Roofing are fully aware of the stress a damaged roof can cause. Roof damage is generally caused by storm damage however it can also happen on older roofs which have not been sufficiently maintained. If your roof is damaged then it may not be providing your property with adequate insulation, thus increasing any utility bills. In the worst case, a damaged roof could be allowing rain water to leak into your property which could become severe if not treated swiftly and appropriately.
What to do if your roof needs repair in Manchester
If your roof needs repairing immediately then we recommend our emergency roofing service - you can call us on 01706 881 256
If you do not need an immediate response then we recommend using your preferred method of contact as listed on our contact page and we will get back to you as soon as possible.
What happens next?
After an initial discussion on the phone or over email, we will send out one of our team members to assess the roof damage and suggest an appropriate strategy for repair. Once this is decided, we can then suggest an appropriate date for us to carry out the work to the property based on the severity of the damage and your own availability.
Our Service Areas
We operate across all of Greater Manchester, including the following areas:
Manchester
Oldham
Rochdale
Bury
Stockport
Trafford
Prestwich